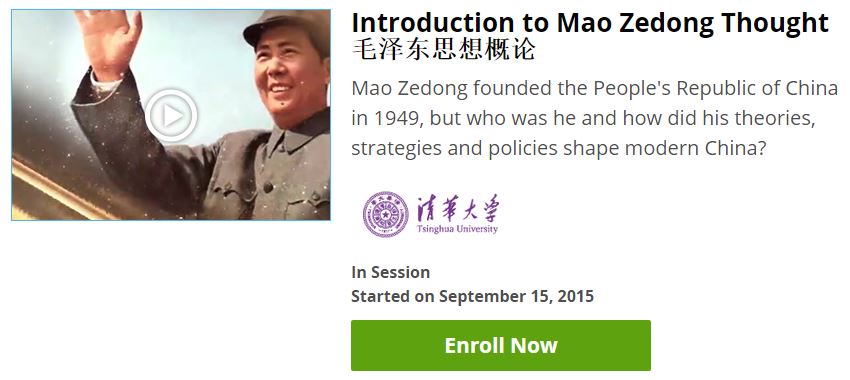 Chinese Tsingua University Free Online Course on Mao!
[
Link to the course
]
In all successful global struggles against imperialism, political leadership that is clear, militant, and global in its scope is a fundamental ingredient to the success and effectiveness of any peoples struggle. If we look back at history it was the leadership of the USSR, its victories and its global leadership which massively contributed to the successes across the world against imperialism, with China being the most obvious example, but other include Socialist Korea and Vietnam and then also many African and 'latin' American liberation struggles. Of course, the other fundamental and primary ingredients is of a battle hardened and tested revolutionary mass organisation and leadership in any given country. Revolution cannot be narrowly exported anywhere, the successes requires the accurate mass line and revolutionary struggle of the leading revolutionary organisations.
In more recent times since the end of the Eastern Socialist Bloc we have seen the global political leadership more or less disappear. People like Gaddafi and Chavez gave the closest to what we need and require in terms of global political analysis and leadership, however both of their lives were cut short and what they started to develop in terms of political leadership was stunted.
China in their own way have been offering a global leadership, but they have not for a long time pushed this across the world very hard. It seems to be more of a case that people have to take steps towards them and their dissuasions and analysis, rather than the Chinese taking steps towards people across the world. Yes, there have been many Chinese state conferences and symposiums on issues of imperialism and socialism, however more recently we can see that China is taking gradual but clear steps in proposing global political leadership, the website
Global Times
reflects the wider more assertive Chinese political leadership.
This new initiatives from Tsingua University in a free online course about Mao Zedong Thought is an important development, it offers free of charge to people anywhere in the world to go through a organised process to learn about the history of revolutionary socialism and anti-imperialism in China primarily through studying the person who was crucial in delivering liberation to the Chinese people: Mao.
While this is an exciting development, it is on the television platforms that China could really deepen and impact a global following, building upon the excellent work of the Chinese state satellite current affairs and news channels of the Chinese Central TV channels of
CCTV
.
Press TV
,
TeleSur English
and RT are the actually existing examples of very effective anti imperialist and pro GlobalSouth media channels that the Chinese could learn and develop their own in their own way and style.
In the context of global politics where imperialism plunges deeper into crises which it cannot resolve but only deepens it through trying to maintain its falling position the through war and destabilisation, we have a near absence of global leadership. China is right not to interfere in the affairs of other countries, at the same time China knows it has something to offer in terms of political analysis and offering lessons from its own experiences of fighting imperialism and building socialism, hence the Chinese gradual political outreach.
Anti-imperialists and anyone who believes in a fair and balanced world whereby imperialism is not dominating will see this new free online course on Mao as a great step forward, and we must do all that we can to popularise it and encourage people to take this course as a part of a more broader educating and organising strategy amongst our peoples.
Sukant Chandan,
Sons of Malcolm
Mao Zedong Thought course debuts on edX, attracting thousands of students
English.news.cn
By Guo Qian and Cheng Yunjie
BEIJING, Oct.10 (Xinhua)-- More than 3,100 students from 120 countries and regions have been studying
"Introduction to Mao Zedong Thought," given by Tsinghua University
since September 15 via edX, an open course website.
The top ten countries and regions include the United States, the United Kingdom, India, Canada, France, Spain, Australia, with the U.S. providing the most or almost a quarter of registered students.
According to Shi Xuelin with Tsinghua University online education office, as "Mao Zedong" was so frequently searched online, the university was inspired to offer the course.
"We think Tsinghua has very excellent teaching faculty in this regard and the course itself has strong Chinese characteristics," said Shi.
When Feng Wuzhong, associate professor with Tsinghua's School of Marxism, offered the course on open course website Xuetangzaixian this spring, more than 5,000 students from across China signed up.
When the class was offered on edX, he spent more than a half year optimizing the course to suit foreign students. Feng said he was "question-oriented" in teaching each class.
Key chapters include how China developed Marxism based on domestic conditions, the reasons modern China would embark upon a path of socialism and the experiences and lessons China learned along the way.
"I hope this course can help students across the world obtain a general knowledge of the thought of Mao Zedong and also help them understand how Chinese teachers and students view him and his theories," Feng said.
Commonly revered by the Chinese as Chairman Mao, Mao Zedong who passed away in 1976 had developed Marxism-Leninism based on Chinese conditions, and led the Communist Party of China (CPC) to victories and the Chinese people to build the new China in 1949. Time Magazine once named him as one of the 100 most important people of the 20th century.
Amelie Encore, a student from New York, left a message on the course's discussion forum, saying that Mao ranked among the great men of history.
"It is wonderful for people around the world to have the opportunity to learn from a most authentic source of the Thought and Working Principles (of Mao), which have made unique and remarkable achievements of the CPC," her note reads.
Dutch student Ashwin Sewambar, who graduated from politic science in Cheng Kung University of Taiwan, was particularly interested in the localization of Marxism in China and how CPC had built its theoretical system of the Socialism with Chinese characteristics since 1949.
Most westerners tend to comprehend a state's political and ideological system from its economy, and thus think China a capitalist state. However, to find truth, I think one must listen and observe from different perspective, he said in fluent Chinese.
To enliven his class, Feng not only quoted Mao Zedong's poetry but also Chinese poetic couplets, literature, movies and music works to elaborate on Mao's thought and his legendary life. He also invited his teaching assistants to give a question and answer session.
Sewambar said he had seen "a lot of sincerity" in Feng's lecture, thinking the course very substantial and the lecturer's explanation very clear.
"It is quite interesting for foreigners to know how Chinese view their own history," said he.
Though the course only consists of four chapters and last seven hours in total, Feng has written lecture notes of 100,000 words, citing a great deal of classic works of Karl Marx, Friedrich Engels, and Vladimir Lenin.
A special teaching assistant team was established to cope with course notes translation and answer students' questions on discussion forum.
Chief teaching assistant Wang Shujuan said that most of students' questions revolved around the localization of Marxism in China and China's state system, people's democratic dictatorship.
"It is difficult for foreigners to understand China's state system, as democracy and dictatorship are opposite concepts. But in the mind of the Chinese, the phase actually means be democratic to the people and be dictatorial to the enemies, "said she.
Wang also noted that students should not count on only translation to resolve all their puzzles in mind, they must read textbooks, Mao's works as well as China's history and acquaint themselves with China's realities and culture.
In the eye of Feng Wuzhong, some of his students could be driven to the class by their curiosity with the achievements China had made, others might be a bit suspicious about the path China was embarking on and wondered where this country would go in the future.
"Either way, academic study provides a base of for deeper understanding, and I believe argument will enliven Mao's thought," he said.
With the course lasting only five weeks, Feng recommended students to read more original works such as Selected Works of Mao Zedong, Poems of Mao Zedong, Resolution on CPC History (1949-1981).
"This course is an introductory one, anyone who is interested in this topic is welcomed. For those who want to take up serious academic study, more efforts need to be done," said he.