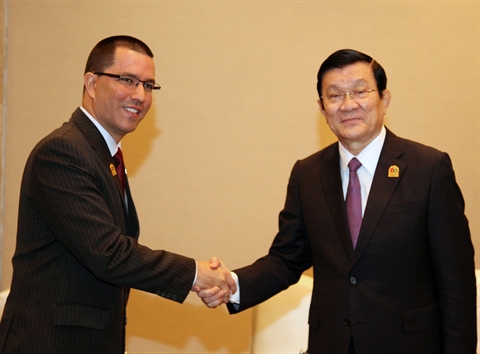 Vietnamese President Truong Tân Sang with Venezuelan Vice President, Jorge Arreaza
Venezuela says Asia, Africa, Latin America should unite to fight neo-colonialism
BANDUNG, April 24 (
Xinhua
) -- Venezuelan Vice President Jorge Arreaza said Friday at the commemoration activities for the 60th anniversary of the Asian-African Conference that Asia and Africa should also unite with Latin America and the Caribbean to fight neo-colonialism.
Arreaza said the world is more complicated today and colonialism takes a more subtle form, like an unfair monetary and financial architecture.
"Economically we must never walk alone, we must do it together as a strong bloc, and assist other small countries in achieving independence, not only politically, but also economically," he said.
In this regard, he called for a solid bloc among countries of Asia, Africa, Latin America and the Caribbeans.
Arreaza said that at the just concluded Asia-Africa Summit, the delegates made good commitments on strengthening cooperation.
He put emphasis on economic aggression, calling on countries to unite in a bid to change the current international financial architecture.
"It never gives benefits to the people, while the riches are controlled by a few people, the rest are suffering from poverty," stressed the vice president.
Venezuela takes a position as an observer at the commemoration events being held in Jakarta and Bandung on April 19-24.