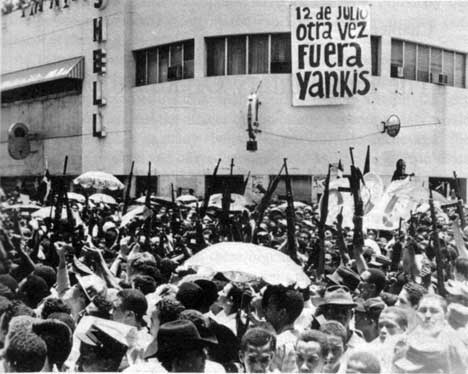 Dominicans remember US invasion, denounce media silence
Telesur
Four days after the Dominican people's victory, US President Lyndon B. Johnson ordered to invade the Dominican Republic with 42 000 marines in "Operation Power Pack", which left more than six thousand civilians killed in the island.
At 50 years of the US invasion of the Dominican Republic, Dominican social movements fighting Tuesday that its history is known despite the private attack by private companies seeking to silence the fact. The special envoy of Telesur to the island, Theophilus Griffin reported that "social movements said they have tried to silence this part of history, and continue to work while the resources permit. "
On Tuesday it is expected to Autonomous University of Santo Domingo, pay tribute to those soldiers who rejected the invasion. They also sent to the US embassy to demand the US government apologize for the fierce invasion. In context The Dominican people remember the American invasion as the fact that prompted the installation of conservative government against social reforms, which for them has meant a reversal of what has been the progress of the Dominican people as a nation.
Dominican Republic recalls Tuesday 50th anniversary of the US invasion, unprecedented intervention in the region, the siege left more than six thousand dead mostly civilians. Today Dominicans struggle to make their story known.