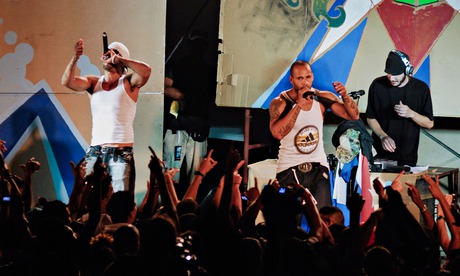 Our Peoples Freedom from Neo-colonialism is 'Bigger than Hip-Hop'
Hip-Hop historically emerged as a celebration of positive existence amongst Black and Brown youth of the 'ghettoes' of New York in the aftermath of, and in the ashes of the defeat of the Black Liberation movements of the 1960s such as the Black Panthers, Brown Berets, Revolutionary Action Movement, Republic of New Afrika and American Indian Movement to name just a few.
Hip-Hop through the 1980s into the first few years of the 1990s saw itself as a potent and effective galvanising force not just for showcasing the talents of our youth, but also showing that it was capable of conveying, popularising and feeding into actual radical movements in the usa and in the GlobalSouth, especially around struggles against apartheid and neo-coloonialism in South Africa and Iraq amongst other places.
By the early 1990s the neo-colonial owned 'entertainment industry' (really a neo-colonial brainwashing industry) historically defeated the Liberation element side of the genre and has since turned into the most effective tool to promote all the oppressions of coloniality impacting on human relations and relations between humans and the world in general.
So it is no surprise that Hip-Hop is seen by the neo-colonialists as a soft target to use and abuse and infiltrate to serve its own ends. One of the most important things reported in the article below is how this attempt of neo-colonialism to formally use Cuban Hip-Hop as a anti-people and counter-revolutionaryproject failed: it failed because Cuba is a frontline GlobalSouth anti-imperialist state whereby the state is there to defend the Revolution's goals, and so the Cuban peoples state did the necessary vigilance and actions to sabotage this neo-colonial project. One perhaps should state it is only with the minimum of such revolutionary vigilance and action and the capacity of the Cuban state that we as resistant-oppressed peoples can defeat the designs of neo-colonialism in using Hip-Hop and any other cultural form against us.
Due to its neo-colonial co-opted nature, Hip-Hop is now associated in the popular Global mind with the same ethics, or enti-ethics, of neo-colonialism. Neo-colonialism can and does use many different cultural forms, however, neo-colonialism also uses Hip-Hop as a very effective means of cultural, ontological (systems of reflecting on being and life) and epistemological (traditions of thinking) and genocide against the majority of the peoples of the world in the Global South. Remember, 'it's bigger than Hip-Hop'.
- Sukant Chandan, Sons of Malcolm
US agency infiltrated Cuban hip-hop scene to spark youth unrest
[
source
]
Investigation finds USAid recruited musicians 'to break information blockade' as part of covert social project
Hip-hop has emerged as the latest covert weapon in the US government's hapless attempts to unseat Cuba's communist government.
Like its previous efforts, including exploding cigars, Cuban Twitter and the botched Bay of Pigs invasion, the attempt to co-opt rappers ended in ignominious failure, new documents have shown.
For more than two years, the American development aid organisation USAid has been secretly trying to infiltrate Cuba's underground hip-hop movement, according to records obtained by the Associated Press.
The idea was to use Cuba's rappers "to break the information blockade" and build a network of young people seeking "social change" to spark a youth movement against the government of President Raul Castro.
The operation followed a familiar pattern to other tactics in America's secret war in Cuba - it was amateurish and profoundly unsuccessful.
On at least six occasions, Cuban authorities detained or interrogated people involved in the operation. They also confiscated computer hardware, which in some cases contained information that endangered Cubans who are thought to have had no idea they were caught up in the clandestine programme.
The USAid operation also ended up compromising Cuba's vibrant hip-hop culture, which has produced some of the hardest-hitting grassroots criticism since Fidel Castro came to power in 1959.
Musicians that USAid contractors tried to promote left the country or stopped performing after pressure from the Cuban government, and one of the island's most popular independent music festivals was taken over after officials linked it to USAid.
The programme is laid out in documents involving Creative Associates International, a Washington contractor paid millions of dollars to undermine the Cuban government. The thousands of pages include contracts, emails, preserved chats, budgets, expense reports, power points, photographs and passports.
The work included the creation of a "Cuban Twitter" social network and the dispatch of inexperienced Latin American youth to recruit activists, operations that were the focus of previous revelations.
USAid denied that the programme was covert. In a statement, it said it was aimed at strengthening civil society "often in places where civic engagement is suppressed and where people are harassed, arrested, subjected to physical harm or worse". Creative Associates has yet to comment.
At first, the hip-hop operation was run in Cuba by Serbian contractor Rajko Bozic. His project was inspired by the protest concerts of the student movement that helped undermine former Serbian president Slobodan Milosevic in 2000.
Contractors would recruit scores of Cuban musicians for projects disguised as cultural initiatives but really aimed at boosting their visibility and stoking a movement of fans to challenge the government.
Bozic focused much of his efforts on Los Aldeanos, a hip-hop group frustrated by official pressure and widely respected by Cuban youth for its hard-hitting lyrics.
"People marching blind, you have no credibility," the group rapped in Long Live Free Cuba!. ''Go and tell the captain this ship's sinking rapidly."
Creative used a Panama front company and a bank in Lichtenstein to hide the money trail from Cuba, where thousands of dollars went to fund a TV programne starring Los Aldeanos. It was distributed on DVDs to circumvent Cuba's censors.
Then the Colombian rock star Juanes announced a September 2009 concert in the heart of Havana. Creative managers held a two-day strategy session on how to persuade Juanes to let Los Aldeanos perform with him.
It didn't happen, but Juanes publicly thanked the rappers after the concert and was photographed with them.
The contractors were pleased; they believed this kind of public support by a major celebrity would protect Los Aldeanos from state pressure.
Juanes's spokesman, John Reilly, said the concert had no political agenda and that "Juanes and the other organising artists did not have any knowledge" of what others did.
Later, Los Aldeanos's charismatic frontman, Aldo Rodriguez, was detained for illegal possession of a computer.
Xavier Utset, who ran the programme for Creative, saw the arrest as a perfect test of whether raising Aldo's profile would keep him out of jail.
In the end, a relative of Aldo's phoned Silvio Rodriguez, himself a legendary singer. Rodriguez told AP that he called a friend in Cuba's culture ministry and asked for the computer to be returned. If there was a problem, he told the friend, "tell them I gave them the computer as a present".
"Evidently he did what I said," Rodriguez said. "I never imagined that a programme like this could exist ... When you find out you could be surrounded by a conspiracy, it's shocking."
At one point, the contractors approached a government sex education institute run by Raul Castro's daughter, Mariela, to be part of the Exit festival in Serbia, even as its organisers were running the anti-Castro hip-hop operation.
Mariela Castro said her institute sent two representatives to the festival but didn't build deeper ties because the festival "didn't have anything to do with the work we were doing".
Contractors paid $15,000 to underwrite an arts and music festival put on by the family of Pablo Milanes, the well-known singer of "nueva trova" music and a man with close government ties. Their secret aim was to seed "the minds of festival organisers with new ideas" and persuade them to send "high-impact messages" to the audience, read one report.
Milanes's daughter, Suylen Milanes, said government officials turned up the day before the festival and warned her that she was associating with unsavoury characters. They even showed her copies of Bozic's emails, which they called suspicious, she recalled.
Bozic was detained coming into Havana with equipment, including a potentially incriminating memory stick, generating anxiety among the contractors. He cut short his trip and other contractors were told he wouldn't be returning soon.
Then, Cuban authorities detained a photographer working with Adrian Monzon, the only Cuban who documents show knowingly worked for Creative Associates on the hip-hop programmr. State security then interrogated Monzon, a video jockey. He told Creative that the Cuban authorities were worried about Bozic and suspected links to the CIA.
Four months later, Los Aldeanos left Cuba for their first trip off the island to perform at the Exit festival in Serbia.
On the side, they were the unwitting recipients of leadership training meant "to focus them a little more on their role as agents of social mobilisation," wrote Utset, a veteran of Cuban pro-democracy efforts.
Monzon was detained again returning to Havana in April 2011, his computer and a memory stick seized. When they were returned, he realised they contained a document with the names of two Creative Associates managers.
Monzon and Utset have refused to comment. Aldo would only say that his "conscience is clear".
In August 2010, Los Aldeanos took the stage at Rotilla, one of Cuba's largest independent music festivals. Before a crowd of about 15,000 people they criticised government officials by name and taunted the police.
"The police instead of making me hate them, inspire pity, because they are such shit-eaters they don't even realise they are victims of the system. Viva Cuba libre," Aldo's partner rapped.
Within months, a USAid contractor told his handlers that the Cubans said USAid had infiltrated the festival, and soon enough, the Cubans took it over.
Los Aldeanos eventually moved to South Florida after complaining that the Cuban government made it impossible for them to work in their own country. Their most recently published lyrics are softer-edged.
In slickly produced videos, Aldo plays with dogs and children, making only scattered political references as he raps about helping people love each other, and making the world a better place.