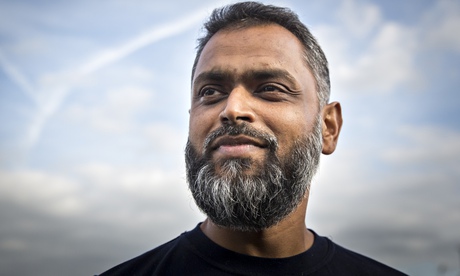 I dont know how ANYONE other than utterly naive neo-colonial stooges can justify this and defend Moazzam Begg and the related dirty relationship between these pro death squad types and the british state. THIS is COLLUSION in death squads by the british state. THIS is one small insight into how the british and western states promote and develop terrorism in our Homelands. See the british relationship with their death squads in 'northern' Ireland (occupied six counties) as another example of all this. - Sukant Chandan, Sons of Malcolm
From
the guardian website thurs 02 Oct 2014
:
"The terrorism case against former Guantánamo inmate Moazzam Begg collapsed after MI5 belatedly gave police and prosecutors a series of documents that detailed the agency's extensive contacts with him before and after his trips to Syria, the Guardian has learned.
The documents included minutes of meetings that MI5 officers and lawyers held with Begg, at which he discussed his travel plans and explained he was assisting opposition fighters in their war against Bashar al-Assad's regime.
On seeing the material, Crown prosecutors realised it corroborated Begg's defence case: he insists he was always perfectly candid with MI5, and says the agency assured him no attempt would be made to hinder him if he wanted to return to Syria.
"In the meeting Begg said MI5 were concerned about "the possibility of Britons in Syria being radicalised and returning to pose a potential threat to national security. I told them that Britain had nothing to worry about, especially since British foreign policy, at the time, seemed in favour of the rebels.""