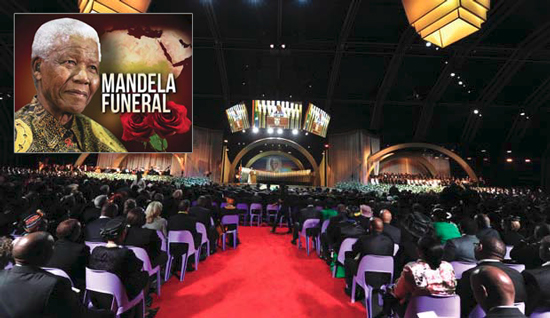 As Mandela is lauded, contradictions surface
(
FinalCall.com
) - Ten days of mourning and celebrating Nelson Rolihlahla Mandela ended with an emotional yet dignified state funeral and burial in the hills of Qunu, the former South African president's ancestral home village. The 95-year-old statesman, who died in early December, was interred with 21-gun salutes and a military formation of six fighter jets that graced the sky in respect to the former commander-in-chief of the South African National Defense Forces, founding president of a democratic South Africa and father of the nation.
According to reports, the full military ceremonial honor was a first for the country.
The service was broadcast live on huge screens throughout South Africa and globally via the Internet. Mr. Mandela's grandchildren, South African President Jacob Zuma, Malawi President Joyce Banda and former Zambia President Kenneth Kaunda spoke among others. Respecting the Mandela family, the Dec. 15 ceremony was more private than five days earlier with a public memorial and three days of the late president's remains lying-in-state.
Family, select friends, international dignitaries including civil rights leader Jesse Jackson, media giant and philanthropist Oprah Winfrey, Prince Charles of England and South Africa's senior leaders were among those invited to Qunu in the Eastern Cape to bid a final farewell to a man who became the face and symbol of struggle, triumph, freedom and integrity.
"Today marks the end of an extraordinary journey that began 95 years ago," President Zuma reflected in opening words about President Mandela, a former political prisoner jailed for armed struggle and activism to end brutal White minority rule in the country. While Mr. Mandela's personal journey has ended, the country still faces serious challenges of inequity, poverty, crime, racial discord and questions about how land and resources taken by Whites will be redistributed to the Black majority.
"The father of the nation is gone, Our Moses is gone. Who shall take us further on this journey for true emancipation of our nation and the people of the world," asked "Lugubrious10," whose comments were listed on SABC TV's Youtube channel.
Public tributes and purposeful deception?
Over 10 days, nearly 100 heads of state converged on South Africa to participate in memorials for Mr. Mandela. In Johannesburg a huge public service was held at a sports stadium, before police escorted the flag draped casket from 1 Military Hospital outside of Pretoria to the Union Buildings where Mr. Mandela's remains laid for public viewing.
People lined the streets showing their respect for the freedom fighter. As is the custom at African funerals, there were energetic cultural expressions of chanting, dancing and hymn-singing about liberation while saying goodbye to "TaTa"—a Xhosa word for father. A military honor guard carried Mr. Mandela's casket to a special viewing center erected in the building's amphitheater, which Mr. Zuma named after Mr. Mandela by presidential decree.
The Union Buildings once symbolized White domination as the place from which the repressive apartheid regime governed. Mr. Mandela kept the location as presidential offices when the African National Congress came to power in all-race elections in 1994 and subsequent voting. Thousands endured long lines for hours to view Mr. Mandela in a half-glass covered coffin, demonstrating their love and gratitude for "Madiba," as he was often called by his countrymen.
During the memorial held in the same Johannesburg football stadium where Mr. Mandela delivered his first speech after being released from Robben Island prison 23 years ago, speaker after speaker expounded on his life and significance. However there were contradictions, depending on the speaker. Some remarks were seen as sincere and credible, while others were seen as historically dishonest.
Among world leaders paying homage to Mr. Mandela was an obvious dichotomy between the likes of Zimbabwe President Robert Mugabe, Chinese President Xi Jinping, Brazilian President Dilma Rousseff and President Raul Castro of Cuba—an ally of anti-apartheid and African liberation movements—and the likes of British Prime Minister David Cameron and U.S. President Barack Obama—who delivered soul stirring words. But these were leaders of countries that actively supported racist White minority rule over the struggle for self-determination for Black South Africans. No top Israeli political leader was present, but Israel's nuclear capability came from White Afrikaners, largely isolated from the rest of the world, except Israel's big brother, the United States.
"They would like you to believe that the United States and the West had seen all along in Mandela what we've seen from the outset. That they were friends to him, but we know that they were enemies to him," Maurice Carney, executive director of an Africa advocacy group, The Friends of the Congo, told The Final Call. "We must not allow the dominant powers to rewrite the story; they were not on the side of peace; they were not on the side of justice; they were not on the side of freedom for the South Africans or for the other freedom fighters on the African continent."
Sentimental language toward Mr. Mandela versus a sordid history of opposing him highlighted the hypocrisy of Western nations, who pushed a message of "peace" and "forgive your enemies" in a controlled, twisted and false narrative about Mr. Mandela.
Mr. Mandela was a giant of the continent and not just South Africa, and his passing represents the loss of a recognized moral voice and one who would criticize Western behavior. Already, emasculated African leadership will continue to face, and often accept, takeovers by foreign corporations and U.S. militarization of the continent through
AFRICOM—the Pentagon's African Command
.
At memorial services and in many conversations there was little talk of seeking accountability for America's past wrongs on the continent. The U.S. Central Intelligence Agency delivered up Mr. Mandela to his apartheid persecutors in 1962. Earlier, the CIA partnered with Belgium and Congolese reactionaries in the capture and assassination of Patrice Lumumba in 1961. In 1966 the CIA orchestrated the overthrow of Kwame Nkrumah in Ghana.
In 2011 along with NATO—the North Atlantic Treaty Organization—America facilitated the illegal toppling and assassination of Muammar Gadhafi of Libya—an avowed friend and supporter of Mr. Mandela and the freedom struggle. The same CIA has kept U.S. regional proxies of destruction—Rwanda's Paul Kagame and Uganda's Yoweri Museveni—in power, say critics. These leaders and America are responsible for war that killed 6 million Congolese from 1996 to 2007, they added.
"On the other hand, we know who were on our side. We saw that Cuba had sent thousands of troops into Angola and the battle of Cuito Cuanavale was seminal in the liberation of Namibia and Namibia's independence and ultimate downfall of the apartheid regime," said Mr. Carney.
President Obama was received enthusiastically as he eulogized Mr. Mandela at the stadium memorial. "How to promote equality and justice … uphold freedom and human rights … end conflict and sectarian war?" he asked rhetorically. "There are too many leaders who claim solidarity with Madiba's struggle for freedom, but do not tolerate dissent from their own people," President Obama said.
But America historically joined the chorus of
Zionist antagonists who accused Mr. Mandela of anti-Semitism and branded him a rogue and a terrorist
. The Nobel Peace Prize laureate was on U.S. terror watch lists until 2008—fourteen years into his global service that drew praise. It was ironic for President Obama to recognize Mr. Mandela as an example of forgiveness and peacemaking while the American president has authorized extra-judicial killings, U.S. drone assassinations of foes abroad and is trying to extradite U.S. freedom fighters in political exile like Assata Shakur in Cuba.
"Explain to me how Obama pretends to embrace a Black revolutionary who engaged in armed struggle in the person of Mandela but
puts Assata Shakur, another Black revolutionary on a most wanted terrorist list,"
asked Ajamu Baraka, longtime human rights activist and associate fellow at the Institute for Policy Studies. "For us it is a major contradiction."
America lauding Mr. Mandela's legitimate struggle in South Africa while holding U.S. political prisoners who participated in Black liberation struggles in the 1960s and 1970s must be raised consistently, said human rights activists.
"Sister Assata Shakur and all the freedom fighters who were involved in that struggle still entombed in these dungeons here in this country has just as much right to be released as Nelson Mandela did in South Africa," said Mr. Baraka.
"Mandela is being praised in the corporate-owned media and western governments for his achievements and especially for his policy of 'peace and reconciliation' with the former racist oppressors following the fall of the apartheid system," said Brian Becker, the national coordinator of A.N.S.W.E.R Coalition—Act Now to End War and Racism.
Mr. Becker explained the wave of pro-Mandela coverage has the effect of "masking the ugly truth" and hypocrisy of these same entities who are attempting to reinvent the former liberation fighter as someone that meets their comfort levels and covers their contradiction.
As the era of Madiba closes, the global struggle for self-determination continues. The principles that drove him to struggle against oppression are alive and the marginalized people from America to the Caribbean, Central and South America and from Europe to Africa must unite against the same forces that are seeking to redefine Mr. Mandela and hide their own misdeeds, they said.
"Our fight was and is a righteous struggle for real self-determination and liberation … our fight is one and the same as the fight that was waged in South Africa against White colonial capitalist domination," said Mr. Baraka.