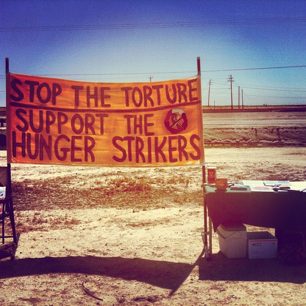 California Prisoners on Hungerstrike
[ via info@kersplebedeb.com ]
So for those of you who have not heard, over 30,000 people held in California prisoners went on hunger strike on July 8th, demanding an end to torturous conditions of solitary confinement and the kafkaesque gang validation process that has seen people thrown in solitary for years for having a tattoo, being in possession of certain political books (i.e. anything by George Jackson!), or being snitched on by an unnamed informant (often just someone else in solitary, looking to trade some information in order to get out).
The California prisoners were joined by smaller numbers in Oregon in Washington states, with their own demands.
For the duration of this strike, this is pretty much what we here at Kersplebedeb will be focusing on, in terms of web posts and work. The u.s. prison system represents the cutting edge of repression around the world, and opposing it as they are doing makes the California prisoners struggle one of great strategic as well as moral importance.
There have been dozens of small solidarity actions, ranging from flyering to vigils to noise demos, in the one-and-a-half weeks since the strike began. More such actions will be needed before this is over. So if you can do something, please do it!
Currently, the California Department of Corrections and "Rehabilitation" (CDCr) is trying to break the strike through brutal retaliation, moving supposed strike leaders into AdSeg (a kind of super-solitary, with conditions even worst than in a regular supermax), issuing disciplinary write ups (which can be used later on to deny parole), threatening participants with solitary, confiscating legal papers, canceling visits, and barring a lawyer for the prisoners. It is important to protest these abuses, or they will only get worse... more information on how to do this can be found below.
If you are receiving this, you are on the Kersplebedeb mailing list. Depending on what happens, this may be the only newsletter you receive from me with information about the strike, or it may not be. Not decided yet.
But for those of you who are interested, i have set up a separate Hungerstrike Newsletter, devoted solely to documenting and supporting this struggle.
You can subscribe to Hungerstrike News by clicking on this link.
You can also see background documents and links to current news articles regarding the site on Kersplebedeb's new
2013 Prisoner Strikes page
.
Now is the time to take a stand and be counted.